Welcome to The Lavender Room, Norfolk.
The Lavender Room is a sanctuary of peace and tranquillity. During your treatments I aim to provide a healing and holistic haven in which you can feel cocooned from the world outside. A cosy candlelit room, fresh soft towels, relaxing music and beautiful aromas will all ensure that your time here is a truly luxurious experience. All of my beauty and holistic treatments are delivered to an exceptional standard through the use of naturally based products to restore, rebalance and revive your mind and body. I limit the use of chemical products during the treatments; instead I use top quality, 100% pure essential oils along with a non-toxic range of skin care products. I always allow an extra fifteen minutes for the consultation process to get to know your desires and individual needs, ensuring that your treatment is tailored to your personal wishes. I strive to deliver consistently high standards of client care at all times, aiming for you leave re-energised - looking and feeling fabulous.
Vicki Rayner (MGHT)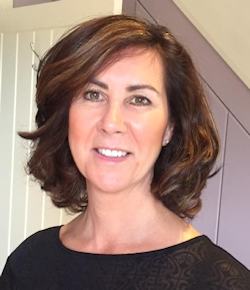 Against a backdrop of unspoilt rural landscape, The Lavender Room; a holistic therapies retreat, sits on the grounds of a grand country estate in Norfolk. Under atmospheric skies, surrounded by tranquil country lanes that lead to vast beaches, bursting with wildlife, this charming listed building is where I, Vicki Rayner, offer a wide range of luxurious treatments to soothe both body and mind.

I began my career in retail, working in the premium brand cosmetics business. I spent five years in the beauty trade before I moved on to become manager of a luxury boutique. Holistic therapies had always been something that I'd enjoyed and been interested in, so I decided it was time to follow this passion and was trained by the Norwich Academy of Holistic Therapies, passing their courses with the high standards required to become a member of the Guild of Holistic Therapies.

All the while I was discovering that a particular niche had not been filled: a treatment room set deep within the heart of the peaceful Norfolk countryside, where clients felt welcomed, relaxed and rejuvenated by their visit, thus The Lavender Room was born.

Although I've had some very pleasant holistic therapy treatments at other practices, being set in this location allows clients to discover the serenity that should be the foundation of holistic therapy, especially if they are interested in natural ways to enhance and improve their health and well-being, through calming treatments offered at reasonable prices, in a stunning setting.

I look forward to welcoming clients, both new and old, to my peaceful little corner of Norfolk, and I believe that you too will benefit from treatments offered at The Lavender Room.